What's it all about?
It wasn't so long ago (well, a little over a year) that I fully embraced Linux as an operating system, at least on my work PC. I remember one of the main reasons I was sticking with Windows was the relatively poor support for the market leading games.
A few months ago I was introduced to Hedgewars, in my opinion the best open source "Worms style" game out there – and I can honestly say that nowadays I am playing it much more than any of my "high end" games! I was a massive fan of the Worms series of games a few years ago, I'm pretty sure I haven't come across addictive multi-player gameplay so good. Here are some of the reasons:
It's free. Yup, it costs zero. Thus it's not that difficult to get friends to join in, even the stingy ones.
It works on lots of platforms (Win, *nix, Mac), and doesn't need a top end pc to run. It just works.
It's bloody good fun, and the game mechanics are extremely close to the original Worms game, and when things aren't quite right…
… they are fixed. The game is actively developing at a rapid pace – bugs are fixed fast and the team behind it are constantly adding maps, weapons and game features.
It's an open source project – one of the reasons it made it onto this blog.  Nobody is trying to profit from this game, like all open source projects this one just thrives on participation. Play, contribute, distribute, discuss – whatever you do it keeps the spirit of  "free software" alive.
Come and have a go if you think you're hard enough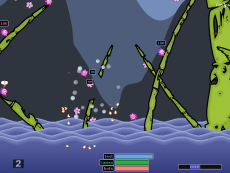 Download the game and come and find us! I'm Rooster, commonly playing with a team called "monkeys". Also look out for zegenie and his Star Wars and our suicidal Icelandic friend Bjori with his team of "special" hedgehogs. We tend to have a game around lunch time (we have work to do as well you know!) and sometimes later in the day if we're working late. Pop into the Hedgewars channel on Freenode (IRC) and give us a shout if you fancy it.